The Long Goodbye: A Memoir by Meghan O'Rourke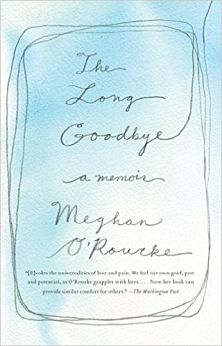 What is it like to mourn today, in a culture that has largely set aside rituals that acknowledge grief? After her mother died of cancer at the age of fifty-five, Meghan O'Rourke found that nothing had prepared her for the intensity of her sorrow. She began to create a record of her interior life as a mourner, trying to capture the paradox of grief—its monumental agony and microscopic intimacies—an endeavor that ultimately bloomed into a profound look at how caring for her mother during her illness changed and strengthened their bond. With lyricism and unswerving candor, The Long Goodbye captures the fleeting moments of joy that make up a life and the way memory can lead us out of the jagged darkness of loss. Effortlessly blending research and reflection, the personal and the universal, it is a love letter from a daughter to a mother that will touch any reader who has felt the powerful ties of familial love.

Editorial Reviews
From Publishers Weekly
Starred Review. In this eloquent, somber memoir about the death of her mother and grieving aftermath, poet and journalist O'Rourke (Halflife) ponders the eternal human question: how do we live with the knowledge that we will one day die? O'Rourke's mother died of metastatic colorectal cancer on Christmas day 2008; the headmaster of a Westport, Conn., private school, she was only 55 years old, and left a stricken husband, two sons, and daughter O'Rourke, the eldest sibling. O'Rourke had shuttled back and forth from her life in Brooklyn and then job at Slate over the preceding year to care for her increasingly debilitated mother. The two were extremely close, and the shock of her mother's illness devastated the whole family (the author married her longtime boyfriend shortly after the Stage 4 diagnosis, then separated just as quickly). Over the last months, O'Rourke was bracing herself, "preparing" for her mother's death, by reading everything she could during the dizzying rounds of doctors' and hospital visits, until the family could take their mother home to die in a heavily medicated peace. Anxious by nature, secretive, often emotionally brittle, O'Rourke grew acutely sensitive to her mother's changing states over the last months, desperate for a sign of her mother's love to carry her through the months of bereavement. O'Rourke heals herself in this pensive, cerebral work, moving from intense anguish and nostalgia to finding solace in dreams, sex, and the comforting words of other authors. (Apr.)
(c) Copyright PWxyz, LLC. All rights reserved. –This text refers to an out of print or unavailable edition of this title.
Review
"Meghan O'Rourke, a celebrated poet and critic, writes prose as if she was born to it first. Her memoir The Long Goodbye is emotionally acute, strikingly empathetic, thorough and unstinting intellectually, and of course elegantly wrought. But it's above all a useful book, for life-the good bits and the sad ones, too."
-Richard Ford"Meghan O'Rourke has written a beautiful memoir about her loss of a truly irreplaceable mother-yes, it is sad, it is in fact heartrending, but it is many things more: courageous, inspiring, wonderfully intelligent and informed, and an intimate portrait of an American family as well."
-Joyce Carol Oates"Meghan O'Rourke is an extraordinary writer, and she offers precious gifts to readers in this powerful memoir. There is the gift of entering her family, with its vibrant characters and culture. There is the gift of her profound insights into the experience of grief, its grip and the diverse ways we struggle to reenter a world where joy is felt. But most of all, there is her gift of showing us how love prevails after even the most devastating loss."
-Jerome Groopman, M.D., Recanati Professor, Harvard Medical School, and author of The Anatomy of Hope and How Doctors Think