Let's Talk About Death by Steve Gordon & Irene Kacandes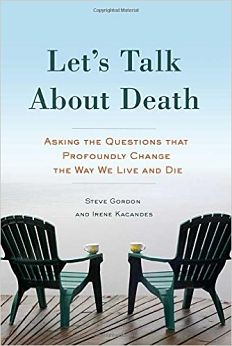 Experts in end-of-life care tell us that we should talk about death and dying with relatives and friends, but how do we get such conversations off the ground in a society that historically has avoided the topic? This book provides one example of such a conversation. The coauthors take up challenging questions about pain, caregiving, grief, and what comes after death. Their unlikely collaboration is itself connected to death: the murders of two of Irene's closest friends and Steve's support in perpetuating memories of those friends' lives and not just their violent ends.
The authors share the results of a no-holds-barred discussion they conducted for several years over email. Readers can consider a range of views on complicated issues to which there are no right answers. Letting ourselves pose certain questions has the potential to profoundly change the way we think about death, how we choose to die, and, just as importantly, the way we live.
Honest, probing, sensitive, and even humorous at times, the completely open discussions in this book will help readers deal with a topic that most of us try to avoid but that everyone will face eventually.

Editorial Reviews
Review
"Irene Kacandes and Steve Gordon have written a tender and beautiful book about a difficult subject borne out of the tragedy of a local murder that brought together this professor and massage therapist. On these pages, they share 'conversations' they had in the form of letters that enabled them to explore sickness and dying from both a personal and a philosophical point of view. . . . In this book, they share life's meaning, and they also offer us a glimpse into their enviable friendship."
—Dr. Erica Brown, educator and author, Happier Endings: A Meditation on Life and Death
"This is what happens when two extraordinary letter writers enter into a lively and engaging dialogue about what it truly means to contemplate death and the loss of those they love—they create a thoroughly captivating and blessedly unsentimental conversation of unflinching honesty and compassion that can't help but stir fellow seekers to take up the quest themselves."
—Lee Webster, president, National Home Funeral Alliance, and director, New Hampshire Funeral Resources, Education & Advocacy
About the Author
Steve Gordon is a massage therapist and the founder, executive director, and primary massage therapist for a nonprofit program called The Hand to Heart Project (launched in 2007), which provides free in-home massage and compassionate touch to people with advanced cancer, including people in treatment as well as people nearing the end of life. Previous to becoming a massage therapist, he was a newspaper writer and editor, working for the Keene Sentinel (Keene, NH) and the Valley News (Lebanon, NH).
Irene Kacandes is the Dartmouth Professor of German Studies and Comparative Literature at Dartmouth College, where she is also involved in the Medical Humanities Initiative. President of the German Studies Association, Kacandes also chairs the Division of Autobiography, Biography, and Life Writing of the Modern Language Association. She's authored two previous books and numerous scholarly articles, as well as edited anthologies, journals, and other books.