Children and Grief: Helping Your Child by Joey O'Connor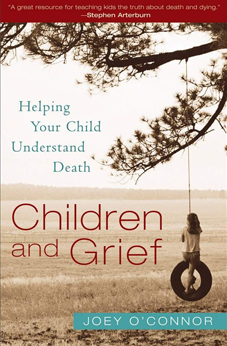 This is a book written for you and your children," explains Joey O'Connor. "It initiates a conversation on a difficult subject most people prefer to avoid. It is about people like you and me struggling to figure out what they really believe when the unbelievable has happened. And then wondering, 'What in the world am I going to say to my kids? How am I going to explain what just happened in our family and what I believe about the God who saw this whole thing happen?"
Children and Grief offers parents a way to approach these tough questions with honesty, tenderness, and hope. O'Connor shows how to teach children to trust God, celebrate life, and have hope in the face of death.

Editorial Reviews
Review
"This book is a great resource for teaching kids the truth about death and dying."
From the Back Cover
Talking to your child about death, dying, and eternal life can be one of the most difficult things you'll ever do-if you're unprepared. How can you prepare yourself and your children for what should be not a onetime discussion but the beginning of a lifelong conversation?
Children and Grief is a compassionate, understanding resource full of ideas to help you support your child through the questions, emotions, and struggles that death and loss inevitably bring. Author and grief recovery specialist Joey O'Connor teaches you how to
– explain the physical reality of death and terminal illness
– answer questions in specific, age-appropriate ways
– help your child grieve by supporting his or her unique emotions
– provide a sense of security amid disorienting events such as funerals
In the midst of pain and grief, death can be an opportunity to share much about life, eternity, and God's love. Children and Grief will help you grab hold of the experience-tough as it is-with insight that will give you both confidence and peace of mind.
About the Author
Joey O'Connor is the author of several books for couples, parents, and young adults. He has appeared on several television programs to educate parents about how to discuss life and death issues with their children, as well as dozens of national radio programs to help couples learn how to improve their relationships. Joey serves Coast Hills Community Church in the spiritual formation department and lives in San Clemente, California.