The Year of Magical Thinking by Joan Didion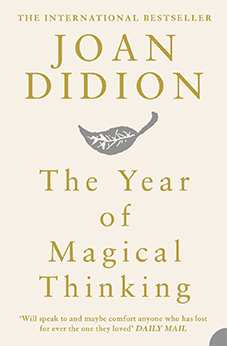 From one of America's iconic writers, a stunning book of electric honesty and passion.  Joan Didion explores an intensely personal yet universal experience: a portrait of a marriage–and a life, in good times and bad–that will speak to anyone who has ever loved a husband or wife or child.

Editorial Reviews
Didion's husband, the writer John Gregory Dunne, died of a heart attack, just after they had returned from the hospital where their only child, Quintana, was lying in a coma. This book is a memoir of Dunne's death, Quintana's illness, and Didion's efforts to make sense of a time when nothing made sense. "She's a pretty cool customer," one hospital worker says of her, and, certainly, coolness was always part of the addictive appeal of Didion's writing. The other part was the dark side of cool, the hyper-nervous awareness of the tendency of things to go bad. In 2004, Didion had her own disasters to deal with, and she did not, she feels, deal with them coolly, or even sanely. This book is about getting a grip and getting on; it's also a tribute to an extraordinary marriage.
Copyright © 2005
The New Yorker
–This text refers to the Hardcover edition.
Review
"Thrilling . . . a living, sharp, and memorable book. . . . An exact, candid, and penetrating account of personal terror and bereavement . . . sometimes quite funny because it dares to tell the truth."
—Robert Pinsky, The New York Times Book Review
"Stunning candor and piercing details. . . . An indelible portrait of loss and grief."
—Michiko Kakutani, The New York Times
"I can't think of a book we need more than hers. . . . I can't imagine dying without this book."
—John Leonard, New York Review of Books
"Achingly beautiful. . . . We have come to admire and love Didion for her preternatural poise, unrivaled eye for absurdity, and Orwellian distaste for cant. It is thus a difficult, moving, and extraordinarily poignant experience to watch her direct such scrutiny inward."
—Gideon Lewis-Kraus, Los Angeles Times
"An act of consummate literary bravery, a writer known for her clarity allowing us to watch her mind as it becomes clouded with grief. . . . It also skips backward in time [to] call up a shimmering portrait of her unique marriage. . . . To make her grief real, Didion shows us what she has lost."
—Lev Grossman, Time
About the Author
Joan Didion was born in California and lives in New York City. She is the author of five novels and seven previous books of nonfiction.
Joan Didion's Where I Was From, Political Fictions, The Last Thing He Wanted, After Henry, Miami, Democracy, Salvador, A Book of Common Prayer, and Run River are available in Vintage paperback.