This mortal month: December 2015
5 things that we learned about death and dying this month on social media
Taking a look at changing attitudes to death and funeral traditions
Sitting for 7 hours a day could send you to an early grave
Carla Valentine, mortuary technician and curator at St. Barts Pathology Museum, tweets us an article that highlights the six things that are most likely to send you to an early grave, according to a study in Australia.
Stocking-filler books about death for Christmas
Dirge Magazine has chosen seven alternative coffee table books about death which you can use as a stocking filler this Christmas.
Risk of death is measured in micromorts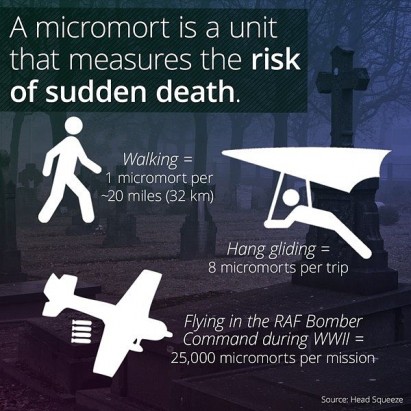 According to Curiosity.com one micromort is the unit is equivalent to a one-in-a-million probability of death and your micromort exposure increases as you engage in risky activities. BBC Future explains this in more depth.
American Funeral Director Magazine holds an annual Funeral Director of the Year Award
This year's award was presented to Gregory B. Levett Sr, founder and CEO of Gregory B. Levett & Sons Funeral Homes in Decatur, Georgia, for his efforts on behalf of others and his positive impact on his community.
Music soothes palliative care patients' souls more than relaxation exercises
A German study has found that music therapy is far more effective at relaxing terminally ill patients and reducing fatigue than verbal relaxation exercises.