Smoke Gets in Your Eyes by Caitlin Doughty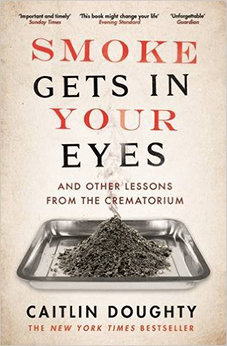 From her first day at Westwind Cremation & Burial, Caitlin Doughty threw herself into her curious new profession. Coming face-to-face with the very thing we go to great lengths to avoid thinking about she started to wonder about the lives of those she cremated and the mourning families they left behind, and found herself confounded by people's erratic reactions to death. Exploring our death rituals – and those of other cultures – she pleads the case for healthier attitudes around death and dying. Full of bizarre encounters, gallows humour and vivid characters (both living and very dead), this illuminating account makes this otherwise terrifying subject inviting and fascinating.

Editorial Reviews
Review
"Unforgettable . . . a hilarious, poignant and impassioned plea to revolutionise our attitudes to death" Gavin Francis, Guardian
"[Doughty's] sincere, hilarious, and perhaps life-altering memoir is a must-read for anyone who plans on dying." (Katharine Fronk – Booklist, Starred review)
"Entertaining and thought-provoking." (Julia Jenkins – Shelf Awareness)
"Demonically funny dispatches." (O Magazine)
"Morbid and illuminating." (Entertainment Weekly)
"A book as graphic and morbid as this one could easily suck its readers into a bout of sorrow, but Doughty―a trustworthy tour guide through the repulsive and wondrous world of death―keeps us laughing." (Rachel Lubitz – Washington Post)
About the Author
Caitlin Doughty is a licensed mortician and the host and creator of the "Ask a Mortician" web series. She founded the death acceptance collective The Order of the Good Death and cofounded Death Salon. She lives in Los Angeles.