On Death & Dying by Elisabeth Kubler-Ross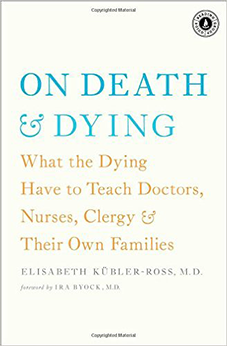 One of the most important psychological studies of the late twentieth century, On Death and Dying grew out of Dr. Elisabeth Kübler-Ross's famous interdisciplinary seminar on death, life, and transition. In this remarkable book, she first explored the now-famous five stages of death: denial and isolation, anger, bargaining, depression, and acceptance. Through sample interviews and conversations, she gives readers a better understanding of how imminent death affects the patient, the professionals who serve that patient, and the patient's family, bringing hope to all who are involved.
Ten years after Elisabeth Kübler-Ross's death, a commemorative edition with a new introduction and updated resources section of her beloved ground-breaking classic on the five stages of grief. This edition includes an elegant, enlightening introduction by Dr. Ira Byock, a prominent palliative care physician and the author of Dying Well.

Editorial Reviews
Review
"On Death and Dying can help us face, professionally and personally, the end of life." (Medical Opinion & Review)
"A profound lesson for the living." (Life Magazine)
"Seminal… just as important and poignant today as it was 40 years ago." (Huffington Post)
About the Author
Elisabeth Kübler-Ross, MD, [1926–2004] was a Swiss-born psychiatrist, humanitarian, and co-founder of the hospice movement around the world. She was also the author of the groundbreaking book On Death and Dying, which first discussed The Five Stages of Grief. Elisabeth authored twenty-four books in thirty-six languages and brought comfort to millions of people coping with their own deaths or the death of a loved one. Her greatest professional legacy includes teaching the practice of humane care for the dying and the importance of sharing unconditional love. Her work continues by the efforts of hundreds of organizations around the world, including The Elisabeth Kübler-Ross Foundation: EKRFoundation.org.
Ira Byock, MD, is a leading palliative care physician, author, and public advocate for improving care through the end of life. His research and writing have helped to define quality of life and quality of care for people living with advanced medical conditions. He has been involved in hospice and palliative care since 1978 and is a founding member and past president of the American Academy of Hospice and Palliative Medicine. From 1996 through 2006, he served as Director for Promoting Excellence in End-of-Life Care, a national grant program of the Robert Wood Johnson Foundation.
Dr. Byock is Chief Medical Officer of the Institute for Human Caring of Providence Health and Services system. From 2003 through July 2013 he directed the palliative care program at Dartmouth-Hitchcock Medical Center in Lebanon, New Hampshire. Dr. Byock is a Professor of Medicine and Community & Family Medicine at the Geisel School of Medicine at Dartmouth.