Final Journeys by Maggie Callanan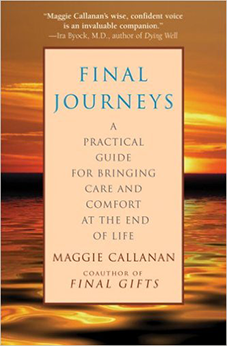 For over 20 years , hospice nurse Maggie Callanan has tended to the terminally ill and been a cornerstone of support for their loved ones. Here is the guide we all need to understand the special needs of the dying and those who care for them. From supporting a husband or wife faced with the loss of a spouse to helping a dying mother prepare her children to carry on without her, Callanan's poignant stories illustrate new ways to meet the physical, emotional, and spiritual challenges of this difficult and precious time. She brings welcome clarity to medical and ethical concerns, explaining what to expect at every stage.
Designed to be your companion, resource, and advocate from diagnosis through the final hours, Final Journeys will help you keep the lines of communication open, get the help you need, and create the peaceful end we all hope for.

Editorial Reviews
Review
"What do we all want, when we approach the inevitable? For a wise, hilarious, sensitive, and pragmatic nurse to sit at our bedside and tell us truths that are helpful, healing, and humane. Maggie Callanan is just that nurse, and Final Journeys is exactly that truth-telling."—Stephen P. Kiernan, author of Last Rights: Rescuing the End of Life from the Medical System
"Maggie Callanan is one of the most experienced, smart and fierce hospice nurses I know. Her insights ring true, and her wise, confident voice is an invaluable companion through this unfamiliar and often frightening final journey."—Ira Byock, M.D., Professor of Palliative Medicine, Dartmouth Medical School and author of Dying Well and The Four Things That Matter Most
"Filled with warmth, insight, compassion, and personal stories, Final Journeys will prepare you for your own transition, and it is must reading for everyone who has relatives and loved ones who are aging, seriously ill, or dying."—Bill Guggenheim, co-author of Hello from Heaven!
About the Author
Maggie Callanan, R.N., has specialized in the care of the dying since 1981. She lectures widely to lay and professional audiences on death and dying, bereavement, and hospice care. Maggie is the author of Final Journeys and co-author of Final Gifts. She lives on the New England coast.