Dying Well by Ira Byock MD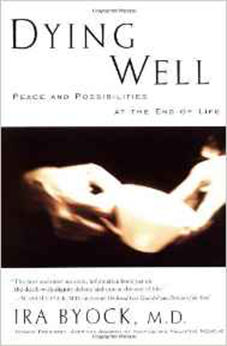 From Ira Byock, prominent palliative care physician and expert in end of life decisions, a lesson in Dying Well.   Nobody should have to die in pain. Nobody should have to die alone. Dying Well brings us to the homes and bedsides of families with whom Dr. Byock has worked, telling stories of love and reconciliation in the face of tragedy, pain, medical drama, and conflict. Through the true stories of patients, he shows us that a lot of important emotional work can be accomplished in the final months, weeks, and even days of life. It is a companion for families, showing them how to deal with doctors, how to talk to loved ones—and how to make the end of life as meaningful and enriching as the beginning.
Ira Byock is also the author of The Best Care Possible: A Physician's Quest to Transform Care Through the End of Life.

Editorial Reviews
Amazon.com Review
On his deathbed, faced with creditors and unpaid bills, Oscar Wilde said despairingly, "I am dying beyond my means!" If only the poor, beleaguered genius had read this book! None of us gets out of here alive, but reading this book will lessen your fear of the ultimate end and give you some guidance about enjoying your life to the fullest right up until your final moment. Do people really enjoy life in the face of death? People do. The stories of individuals in Dr. Byock's book will move and inspire you to change your feelings about the end of your life, and also your feelings about your life in the present.
From Publishers Weekly
This study of how to die well displays uncommon vitality. Byock, president elect of the American Academy of Hospice and Palliative Care, is a gifted storyteller. Beginning with his own father's terminal illness, he details without scientific cant the process of decline that awaits most of us. The case studies, which form the humanistic soul of this work, never devolve into the maudlin or saccharine. Life on the edge of the great crossing is explored in all its sadness and pathos, but Byock also makes room for wisdom, hope and even the joy of final understanding. By recounting the passages of patients in his Missoula, Mont., practice, Byock makes a forceful case for hospice care and against physician-assisted suicide. He demonstrates how the physical pain and emotional despair of the dying may be handled. The family constellation of the terminally ill is also analyzed, with emphasis on a hospice's ability, through its doctors, nurses, psychologists and social workers, to help those left behind. Not only is this book informative, especially the question-and-answer section at the end, it is also insightful. Readers will sense Byock's personal growth as his understanding of final issues flowers through a 20-year specialization. Byock recalls his growth from a callow resident to a concerned son and, finally, to a healer with a mission. Whether it's the middle-aged mother who must resolve disillusionment with her sister, the bitter father of three who achieves serenity or the gutsy teenage girl with a rare genetic disease, the people whose sojourns Byock recounts receive from him the dignity they merit.
Copyright 1996 Reed Business Information, Inc.