Californian Gov. Brown signs assisted-death bill
USA – Governor Jerry Brown signed a bill Monday giving terminally ill Californians the right to be prescribed a lethal dose of drugs, saying in a highly personal statement that he had reflected "on what I would want in the face of my own death" and decided that those in such situations should have the choice.
The 77-year-old governor, a former Jesuit seminarian who worked for a time with Mother Teresa in India in the late 1980s to aid the dying, ended speculation over whether he would sign a bill that was opposed by the Catholic Church and some advocates for the sick and disabled.
California is the fourth state to pass a law offering such an option to terminally ill people, joining Oregon, Washington and Vermont. In Montana, a court has ruled that aid in dying does not violate that state's laws. California's law, which takes effect next year, will expire in 10 years unless it is renewed.
The assisted-death bill, ABX2-15, is extraordinary "because it deals with life and death," Brown wrote in his signing message. "The crux of the matter is whether the state of California should continue to make it a crime for a dying person to end his life, no matter how great his pain or suffering."
To make that decision, Brown said he had considered the issue from "theological and religious perspectives that any deliberate shortening of one's life is sinful." He said he had discussed the issue with a Catholic bishop, two of his doctors, and even South African Archbishop Desmond Tutu, who has spoken out in favor of "dignity for the dying."
Brown said he also examined "thoughtful opposition materials" from doctors and advocates for the rights of the disabled.
'It would be a comfort'
In the end, Brown wrote, he asked what he would want "in the face of my own death."
"I do not know what I would do if I were dying in prolonged and excruciating pain," Brown wrote. "I am certain, however, that it would be a comfort to be able to consider the options afforded by this bill. And I wouldn't deny that right to others."
The "End of Life Option Act" narrowly defines the circumstances under which mentally competent, terminally ill patients can receive a lethal dose of medication.
Before the drugs can be prescribed, two California doctors must agree that the person has no more than six months to live.
It is then the patient's choice whether to take the drugs. Those who want to must affirm their intention 48 hours in advance and must take the drugs on their own, without help.
California has seen five previous efforts to pass an aid-in-dying law since 1992, when state voters rejected a ballot initiative. Similar laws failed to make it out of the state Legislature four times between 1995 and 2008.
State Sen. Lois Wolk, D-Davis, tried again after the debate about medical prescriptions for terminally ill people grew more personal last fall.
Brittany Maynard of Alamo, a 29-year-old school teacher, was diagnosed with terminal brain cancer in spring 2014. Aware that her rapidly growing tumor foretold a painful death, Maynard left California and moved to Oregon to take advantage of that state's "Death With Dignity" law and receive a fatal dose of the barbiturate Seconal.
She described her decision in a video she released Oct. 6, 2014, which went viral.
"I want this law to change for Californians and all Americans," she told The Chronicle weeks before she ended her life on Nov. 1. "To be a part of getting the ball rolling is something I feel good about. I want to make sure no one else has to do what I did and pack up their family and move to another state to not die horribly."
Doctors' fears
Maynard worked with a nonprofit lobbying group for aid in dying called Compassion & Choices.
"We've heard repeatedly from people in California that doctors have been very hesitant to talk about the whole range of end-of-life options because they fear they could be prosecuted," the group's campaign manager, Toni Broaddus, said Monday. "This law will let people make an informed decision."
A Field Poll released Monday showed widespread support among California voters for the bill, including rare harmony between Democrats — 70 percent of whom favored it — and Republicans (55 percent in favor). Even a majority of Catholic respondents said they hoped Brown would sign the bill.
Yet there remains fervent opposition.
"This is state-assisted death, physician-assisted death and relative-assisted death," said state Sen. Bob Huff, R-Diamond Bar (Los Angeles County). "By signing this legislation, the governor ignores warnings from many physicians that patients facing end-of-life decisions may be subtly pressured to choose death rather than hold out hope for a cure."
The Association of Northern California Oncologists said it opposed doctors hastening someone's death.
"There would be no drug to kill the patient if the physician didn't prescribe it," said the group's executive director, Jose Luis Gonzalez. "We believe that a physician's first duty is to assist in the preservation of life and not to cause harm. We're disappointed with the governor's decision."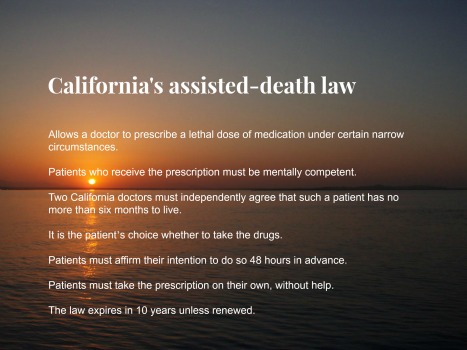 Author: Nanette Asimov (San Francisco Chronicle staff writer). Curated from Californian governor Jerry Brown signs assisted-death bill