Being with Dying by Joan Halifax Roshi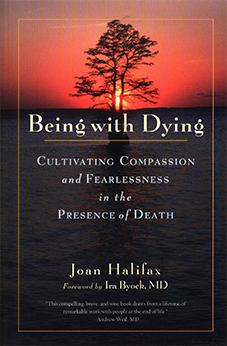 The Buddhist approach to death can be of great benefit to people of all backgrounds—as has been demonstrated time and again in Joan Halifax's decades of work with the dying and their caregivers. Inspired by traditional Buddhist teachings, her work is a source of wisdom  for all those who are charged with a dying person's care, facing their own death, or wishing to explore and contemplate the transformative power of the dying process. Her teachings affirm that we can open and contact our inner strength, and that we can help others who are suffering to do the same.

Editorial Reviews
From Publishers Weekly
In this moving meditation on palliative care, Halifax tells a story about a dying Zen teacher who confesses to his students: Maybe I will die in fear or pain. Remember there is no right way. This sentiment forms the core of a book that provides practical and philosophical guidance to caregivers. Drawing on her 30 years of experience in the contemplative care of the dying, Halifax honestly enumerates the challenges of being with the dying while exalting it as a school for unlearning the patterns of resistance… [it] enjoins us to be still, let go, listen, and be open to the unknown. According to Halifax, bearing witness to dying can teach innumerable lessons to the living—assuming we give up our tight control strategies, our ideas of what it means to die well. Halifax is a Zen priest, and while many of her teachings derive from Buddhism, her supremely readable book will attract readers of all faiths who will appreciate her clarity and compassion and the poignancy of these stories of ordinary people facing their final hours with quiet courage. (June)
Copyright © Reed Business Information, a division of Reed Elsevier Inc. All rights reserved. –This text refers to an out of print or unavailable edition of this title.
Review
"A moving meditation on palliative care. . . . A supremely readable book that will attract readers of all faiths who will appreciate her clarity and compassion and the poignancy of these stories of ordinary people facing their final hours with quiet courage."—Publishers Weekly
"This compelling, brave, and wise book draws from a lifetime of remarkable work with people at the end of life."—Andrew Weil, MD
"Joan Halifax has a knack for straight talk and sublime insight—a no-holds-barred approach to life's greatest challenge, dying well. This book beckons to those who dare, and those who care; it's a profound and practical guidebook to the inevitable final dance."—Daniel Goleman, author of Emotional Intelligence
"This book is a gift of wisdom and practical guidance for living."—Ira Byock, MD, author of Dying Well and The Four Things That Matter Most