The Conversation by Angelo E. Volandes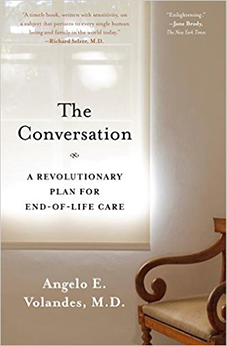 There is an unspoken dark side of modern medicine–keeping patients alive at any price. Two thirds of Americans die in healthcare institutions, tethered to machines and tubes, even though research shows that most prefer to die at home in comfort, surrounded by loved ones.
Dr. Angelo E. Volandes believes that a life well lived deserves a good ending. Through the stories of seven patients and seven very different end-of-life experiences, he demonstrates that what people with a serious illness, who are approaching the end of their lives, need most is not new technologies but one simple thing: The Conversation. He argues for a radical re-envisioning of the patient-doctor relationship and offers ways for patients and their families to talk about this difficult issue to ensure that patients will be at the center and in charge of their medical care.
It might be the most important conversation you ever have.

Editorial Reviews
Review
"Worth the price of the book alone is Volandes' easy-to-follow guide for determining and making known one's end-of-life wishes." ―Booklist
"Written with passion and clarity, this book moves beyond others on the topic by including empirical evidence of how to make such conversations about end-of-life care most effective." ―Library Journal
"Appropriately, Volandes neither attempts nor claims to be impersonal or unemotional about this charged topic; rather, he brings his personal and professional experiences as well as research to his impassioned argument . . . [He]makes his points succinctly and convincingly and offers readers the tools to make change within their own lives." ―Shelf Awareness
"A thoughtful and thought provoking book that confronts the fear of death with the grace of wisdom and understanding." ―Spiritualty and Health
"Enlightening." ―The New York Times
About the Author
Angelo E. Volandes is a physician and researcher at Harvard Medical School and Massachusetts General Hospital. He is also the co-founder of Advance Care Planning Decisions, a nonprofit organization devoted to encouraging The Conversation through the use of videos. He lives outside Boston, Massachusetts.